ABOUT US
Niagara Academy of Tennis is a year round tennis facility offering tennis fun for all ages and skill levels.
The academy has 4 courts available for individual or doubles play. We offer a variety of after school junior programs for younger players just learning the game to more advanced, competitive players.
Our adult clinics and pickleball programs are designed to suit players of all levels providing a fun way to get fit! 
We also have Winter break, March break and Summer camps for domestic and international players.
Scheduled Closure Dates for 2022-23
These are the dates the tennis courts will closed for the 2022-23 season.
Dec. 24 to Dec. 26, 2022
Dec. 31, 2022 to Jan. 2, 2023
Feb 20, 2023.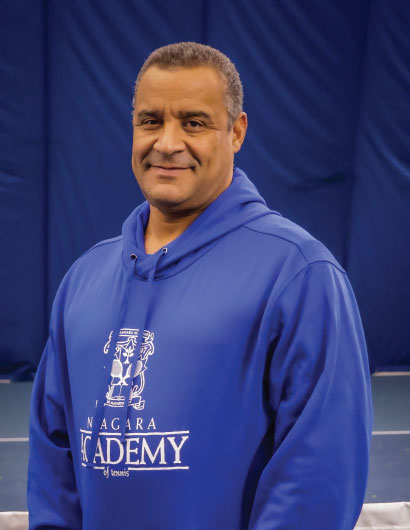 Ouahab Ghouli
NAT Academy Director, Tennis Canada Coach 3
A reliable and conscientious individual with strong work ethics and a friendly and outgoing personality effective communicator and team player seeking a new opportunity where skills and experiences could make an immediate and positive team contribution.
Highlights:
Member of the Professional Tennis Association (PTA) of Canada

Former Davis Cup Player for Algeria and former ATP Tour player

Skilled in coaching, developing, and implementing players' development and school initiatives

to bring them to the highest level

Able to create and conduct Coaches Education Programs at an international level

Fluent in following languages: English, French, Arabic (written and spoken)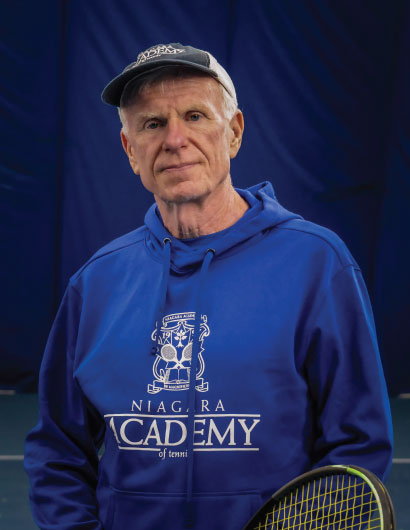 Dave Boland
Adult Programs
Co-ordinator/ Tennis Pro
Dave Boland has worked at Niagara Academy of Tennis, during the indoor season, since 2016. He has long been active on the Niagara Peninsula tennis scene. 
"All the on-court action is always exciting and great to be a part of, especially seeing the person improving their play. The behind the scenes teamwork involved is very interesting and satisfying to me as well. There are so many facets to tennis, that it is easy to keep up one' enthusiasm."
Highlights:
Manager/Pro at Welland Outdoor Tennis Court for almost 30 years.
Head Pro at Welland Indoor Tennis Court – 10 years.
White Oaks staff – 12 years.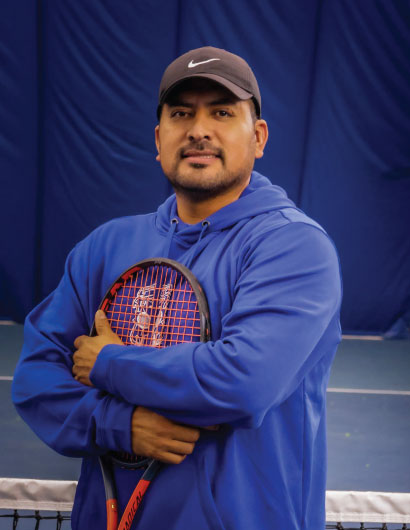 Joel Cruz
Tennis Coach and Club Pro 1
Highlights:
15 years coaching experience

Former ATP player.

The Head Pro at the Grimsby Summer Tennis Club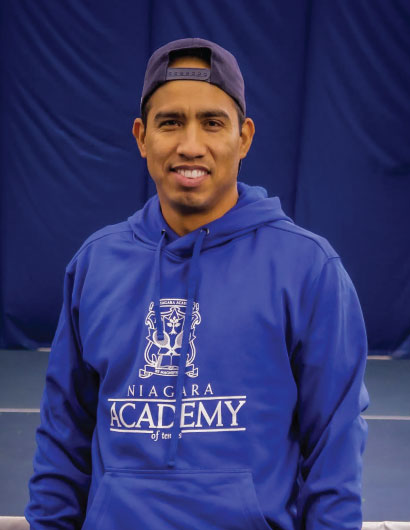 Highlights:
Certified Tennis Canada Coach 1

Played  D1 Tennis at Niagara University

15 years of coaching experience and ability to coach all levels.



Highlights:
Canada coach 3, pro 3

Over 25 years of coaching experience

Instructor 1-course facilitator.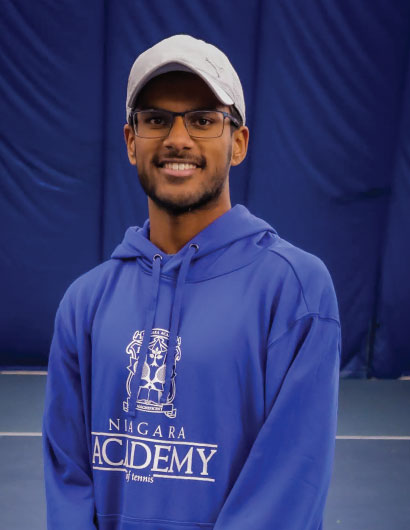 Rayirth Sivakumar
Tennis Instructor 1/ Hitting Partner
Highlights:
Niagara Academy Club Administrator

High-performance tennis player.

Mac Master University Tennis Team player.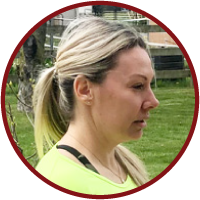 Carly is a passionate health/ fitness/ tennis professional who lived abroad for 13 years (Middle East). Carly has traveled the world working with numerous cultures and nationalities while coaching tennis and leading a variety Bachelor courses, fitness classes & nutrition workshops.
Highlights:
20+ years experience playing tennis. Attended school in the US on a tennis scholarship.

Lead junior/toddler summer tennis camps.

Health/fitness lecturer for the Government of Dubai

Certified personal trainer

CrossFit level 1 coach

Bachelors in Physical Education

Masters in Health Promotion with a focus on Nutrition

Lead a variety of fitness classes ie – Strength and conditioning/mobility etc around the world.

CONTACT US
Niagara Academy of Tennis
3373 First Avenue
Vineland, Ontario
L0R 2E0
905.562.0683
info@niagaraacademy.ca